Description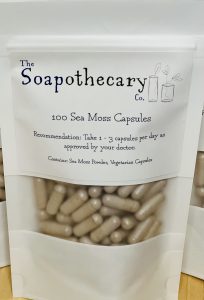 Love the benefits of sea moss, but not the taste? Try capsules! Nourishing Sea Moss capsules provide the body with 92 minerals needed for healthy function and are easy to ingest. Size 00. 100 capsules per package. Vegetarian capsules.
Sea Moss has been known to:
Aid digestion and improves overall gut health and immunity.
Improve thyroid function
Improve energy levels (High levels of B vitamins!)
Contain potassium iodide, which is great for dissolving phlegm
Be rich in amino acids, vitamin C, antioxidants, as well as a host of antiviral and antimicrobial agents
Nourish skin
Contain magnesium and potassium which are mood boosters and play a role in brain function)
Contain 92 of the 102 minerals needed by the body such as zinc, iodine, iron, calcium, potassium, B-complex vitamins, sodium, sulfur, and silicon
Safety Warning:
As with all herbal supplements, consult your physician before using. Keep out of reach of children. For external use only. Discontinue use if rash or irritation occurs.
These statements or products have not been approved by the Food and Drug Administration. This product is not intended to treat, cure, diagnose, or prevent any disease.